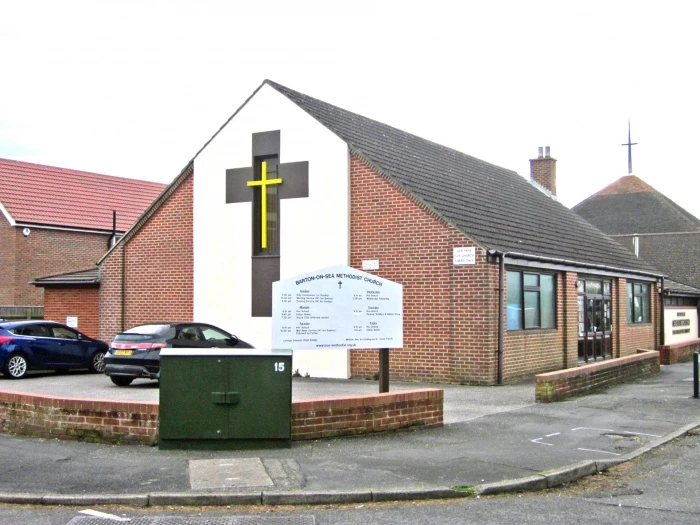 Our Origins
The Methodist Church at Barton on Sea began officially in 1931. Services were held at "Rest Harrow", a private residence in Barton Lane. A church building opened during March 1932 and a hall was added in 1951 but became so well used that it had to be replaced with a new larger hall in 1955. The church also became too small and during 1954 alterations were made to increase the seating capacity. Growth continued and in June 1964 a scheme for a new church and ancillary premises was approved and the new buildings were opened and dedicated on May 22nd 1971. Further alterations took place in 1999 to provide the buildings, as we know them today.
There are many activities taking place on our premises, not previously mentioned – Meeting Point (a women's group), Barton Parents, Toddlers and Babies Group, Barton Pre-School, Rainbows and Brownies, Short Mat Bowls and a Social Club.
Aside from activities and events organised through our Church many other community groups already make regular use of our premises for a wide variety of activities.
We recognise that our premises are a valued community asset and we are always prepared to consider applications for their use.
We welcome couples coming forward for Christian Marriage, and parents bringing their children for Baptism. Please contact the Minister for further information about these events.
This church supports the use of Fairtrade and Rainforest Alliance products. We are committed to the use of Fairtrade and Rainforest Alliance tea and coffee at church events and other products wherever possible. We will publicise this commitment and encourage the use of these products locally. Through the inclusion of prayer, worship and study on Fairtrade and Rainforest Alliance themes we will develop the church's witness in the area of global justice.
Support for Charities
We regularly support a number of national charities including Christian Aid, Action for Children and MHA (Methodist Homes) with coffee mornings, special envelope collections, individual collecting boxes, bring & buy sales, garden fetes, etc.
There is also much support given to local charities. These include New Forest Basics Bank, Lymington Hospital League of Friends, and, based in New Milton, Neighbourcare, providing car transport for hospital patients attending regularly for cancer related therapy treatments and the local Carers Group and the Christian Housing Association.
We are grateful that many members of the church give to many forms of World Mission including Christian Aid, Save the Children, Tools with a Mission, Samaritans Purse and many other occasional appeals.
Through two annual envelope appeals and individual collecting boxes we are also able to support the World Mission Fund of the Methodist Church.
We support the Methodist Church's Mission in Britain Fund that is used to help Methodists around our country to deliver effective mission in their local communities, and supporting work that is of national significance. This could include mission alongside the poor, chaplaincy, sharing the gospel with all ages, ministering opportunities at Methodist Heritage sites and using our church properties to serve local communities.